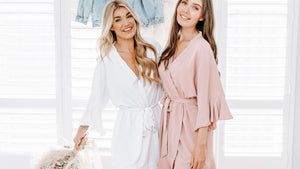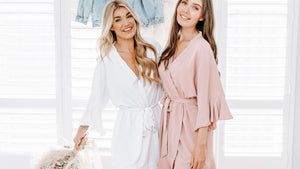 WE MAKE THE

WHOLE SQUAD

HAPPY
WITH OUR INCLUSIVE SIZE RANGE
BRIDESMAID ROBES & GIFTS
Welcome to All Things Nice, Australia's home for Bridesmaid Robes & Gifts
We have high quality bridal party robes and gifts with fast shipping Australia Wide. Your wedding morning photos will be complete with our stunning bridal party robes and personalised pyjamas making getting ready for your big day even more special and beautiful. With all of our bridesmaid robes you can customise with your loved one's name to add an extra special touch to your gifts and each bridesmaid robe. You can also choose from our range of bridal pj's, bridesmaid gifts, personalised duffle bags and bridal party gifts including grooms gifts.
We are based in Australia and happy to help brides in a rush. Just get in touch to let us know your requirements and we will always do our best to accommodate. We love seeing our bridal robes in action on your wedding day so don't forget to tag us in your photos. If you have any questions or special requests, please don't hesitate to get in touch with us to discuss them. Our aim is to help make your Wedding morning vision come true with our high quality, pyjamas, bridal robes and gifts with customisable options, all from our creative studio in Australia.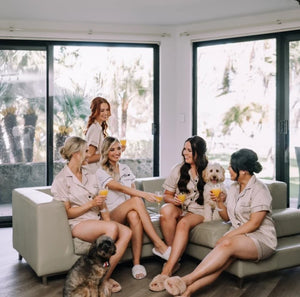 Stylish Sleepwear
Our range of embroidered pyjamas make for the perfect personal and practical gift.
Shop Pyjamas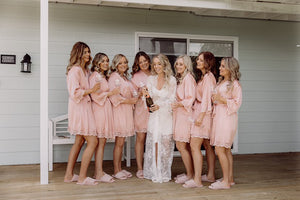 Get Wedding Ready in style
Our range of robes will make for the most Insta worthy Wedding morning moments. With optional embroidery.
Shop Robes
Our bridal robes come in a range of styles and colours. Choose from floral robes, satin bridesmaid robes, delicate lace robes and you have the option to personalise them all. We have an inclusive size range from size 6 to size 24. Get 'wedding ready' with us and your bridal party will be delighted with thoughtful gifts they can use again and again.
As Seen In